Annual Events
April - Clinton Township Country Run
Annandale Hose Company supports the Clinton Township Country Run which hosts three races in April
·       15K - USATF NJ State Championship and Grand PrixEvent through beautiful Hunterdon County, including almost 2 miles of runner-friendly groomed trails!
·       5K -USATF NJ Grand Prix 500 Point Event on a fast, generally flat course with some rolling hills.
·       1 Mile Run - a great introduction to running within beautiful Bundt Park.
Fun with more than 750 of your closest running-enthused friends, prior to Clinton Township Community Day! For more details or to print a registration form go to Running Events in NJ | Clinton Township Country Run | United States (ctcountryrun.com).
April – Clinton Township Community Day
This annual event brings the community together for a fun filled gathering.   The day begins in the afternoon right after the Clinton Township Country Run on the last Saturday of April.
Celebrate the arrival of spring by joining us at Bundt Park for food, games, activities and music for the entire family!  Celebrate Clinton Township with your neighbors and friends.  We hope to see everyone at this wonderful community event!
Sample Activities and Events:
·        Fire Trucks and Safety Trailer for kids
·        Tethered Balloon Rides
·        Helicopter Experience - Inflatable Bounce Fun
·        Pony Rides - Petting Zoo - Face Painting
·        High School Softball & Baseball Games
·        Community Organization Information Booths
·        Live Music - Beverage Truck
June - ICS Fireworks
Annandale Hose Company supports the fireworks in mid-June held at the Immaculate Conception Parish festival. Immaculate Conception invites all to become part of this extraordinary event that has been active for the last 15 years.
July - Lebanon Parade
Annandale Hose Company is a proud participant in the Lebanon Parade.  For over 60 years, the volunteers of the Lebanon Boro Parade Committee have been hosting the oldest, continuous 4th of July Parade in Hunterdon County.
Celebrate with us this year as we celebrate with the unique parade theme of "Pictures of Patriotism".  Click here for details.
September - Sept 11 Memorial
Please join the Annandale Hose Company No.1 in Honoring All Those Lost on September 11th, 2001 as well as those that have protected our Nation and Community.
Honor and Remember them by helping us build a Reverent and Reflective tribute to their Sacrifice. Share your pride and remember your family members, neighbors, friends and fellow Americans by visiting the memorial. You can ensure their sacrifice and service is Always Honored and Never Forgotten.
The Memorial is located in front of Station 1 of the Annandale Hose Company No.1 at 68 Beaver Avenue, and was dedicated on September 9th, 2012.
October - Fire Safety Education – For kids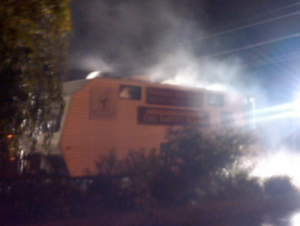 The Annandale Hose Company operates a refurbished Surrey Fire Safety House, thanks to a grant from the Ronald McDonald House Charities.
We use this as part of our Fire Safety Education Program, both in the Township and other parts of the county upon request. The trailer is shown above operating at Sergeanstville Volunteer Fire Company where it hosted well over 100 children.
The Fire Safety Education Program in the Township operates for the month of October and covers schools and daycare facilities with tailored programs.
Requests for the Fire Safety House should be made well in advance to the Chief or President.
October - Safe Night Out –Halloween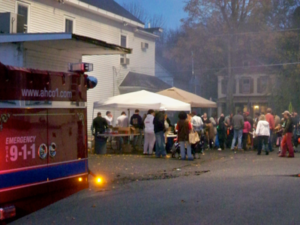 The Annandale Hose Company No.1 and Clinton Township FOP Lodge 182 hosts a Halloween event in the village of Annandale. Set up in front of the old firehouse we hand out up to 500 lightsticks, 700 hot dogs and 2 barrels of birch beer along with an assortment of candy. Tower 46 is used to light the area, Engine 46-1 was on hand to answer calls. Brush 46-2 and Trailer 46-3 were also on hand with barriers and cones to restrict traffic on Center and Main Streets.
December - Santa Visits
Annandale Hose Company #1 brings Santa Claus and his helpers to local neighborhoods.
Clinton Township residents who would like a visit from Santa can send an email to [email protected] to schedule a visit.
December - Town of Clinton Parade
Annandale Hose Company No. 1 is a proud participant in the Town of Clinton Parade. Click here for details.
The annual Clinton Guild Christmas Parade will be held on the first Friday of December, starting at 7PM.
The parade takes place in the center of Clinton. Parade forms up New Street. Floats will line up on
New Street and Center Street east to CenturyLink. Viewing is allowed anywhere along the Parade Route.